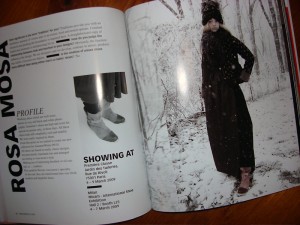 Die neue Ausgabe des Austrian Fashion Guide ist erschienen. Auch wenn am Cover  2008/09 steht – gemeint sind natürlich die Kollektionen für Herbst-/Winter 2009/10, die im März in Paris gezeigt werden.
20 österreichische Designerinnen und Designer sind in Kurzportraits und einer Fotostrecke mit Starmodel Ilvie Wittek vertreten. Ein Übersichtsplan veranschaulicht wer wo in Paris zeigt, und zum Drüberstreuen gibt's am Schluß noch eine etwas mehr als 100 Labels umfassende Kontaktliste. 6000 gedruckte Exemplare werden an internationale EinkäuferInnen, StylistInnen und ModejournalistInnen verteilt.
Austrianfashion.Net bietet den Guide auch als PDF zum Download an. Mein Lieblingszitat aus den kurzen, aber nichts destotrotz recht interessanten Interviews kommt von Michaela Buerger, die seit 2006 in Paris lebt und arbeitet, auf die Frage: Are there any recogniseable traces of your former teachers Simons and Branquinho in some of your designs?
With all due respect, I hope not!